Welt der Wun­der TV
MLT‑S offers the oppor­tu­ni­ty to invest in an inno­v­a­tive pri­vate TV sta­tion and media group
For decades, Welt der Wun­der has been broad­cast­ing to one of the largest tele­vi­sion audi­ences in the world. The com­pa­ny's unique and Euro­pean-wide high-qual­i­ty pro­gram library is the basis for the fur­ther growth in sales and earnings.
Welt der Wun­der reach­es 15 mil­lion view­ers through tele­vi­sion alone and anoth­er 12 mil­lion online per month. In addi­tion, the mag­a­zine pub­lished by the issuer is the mar­ket leader in the field of Ger­man knowl­edge mag­a­zines with a month­ly cir­cu­la­tion of 120,000. Fur­ther­more, the com­pa­ny has around 30,000 media assets in the field of knowl­edge, ser­vice and every­day life. The issue of MLT‑S is intend­ed to increase the TV sta­tion's steadi­ly grow­ing mar­ket share even faster.
More infor­ma­tion about the com­pa­ny can be found under: https://www.weltderwunder.de/
HIGHLIGHTS
ABOUT THE ISSUER
Welt der Wun­der is built on these three pil­lars of the media industry:
1. Con­tent plat­forms — Two exist­ing TV net­works in Ger­many and Switzer­land, with ambi­tion to expand to oth­er countries.
2. Dis­tri­b­u­tion — Inno­v­a­tive first ful­ly dig­i­tized glob­al con­tent mar­ket­place MILC — Media Indus­try Licens­ing Con­tent. Strat­e­gy to achieve a mar­ket-lead­ing position.
3. Pro­duc­tion — More than 25 years of expe­ri­ence in high-class fac­tu­al enter­tain­ment and edu­tain­ment tele­vi­sion pro­gram, as glob­al net­works to all indus­try part­ners. Strat­e­gy to pro­duce and co-pro­duce valu­able licences to sup­port dis­tri­b­u­tion strat­e­gy and sup­ply own outlets.
The brand aware­ness of Welt der Wun­der is over 80% and is rat­ed as very pos­i­tive. How­ev­er, the aware­ness of the own TV chan­nel is only about 5%. This will be increased through tar­get­ed mar­ket­ing. The sales of Welt der Wun­der increased by 140% in 2019. This was made pos­si­ble by the estab­lish­ment of the com­pa­ny's own sales depart­ment. Turnover is expect­ed to increase fur­ther in the com­ing years. Cur­rent­ly, Welt der Wun­der has a mar­ket share of 0.1 % in Ger­many. With­in the next year, the mar­ket share should increase to 0.4 %. Com­pa­ra­ble sta­tions earn EUR 190 mil­lion in adver­tis­ing rev­enue. If Welt der Wun­der reach­es the tar­get of a mar­ket share of 0.7 — 1% in year 2 and 3, the expect­ed gross adver­tis­ing rev­enue amounts between EUR 360 mil­lion to EUR 418 million.
Welt der Wun­der has emerged as a rep­utable and high qual­i­ty DACH brand for adver­tis­ers as they eschew sex and crime and pro­duce enter­tain­ing and high­ly educa­tive con­tent. The view­ers of Welt der Wun­der are so-called "Mod­ern Per­form­ers". This is the most attrac­tive group for adver­tis­ers, as they are both rec­om­men­da­tion-friend­ly and curi­ous, as well as hav­ing a high lev­el of edu­ca­tion and a high income.
ABOUT MILC — MEDIA INDUSTRY LICENSING CONTENT
Infor­ma­tion and enter­tain­ment unite the world. Mil­lions of hours of qual­i­ty video con­tent is cre­at­ed every year, yet the cur­rent process high­ly inefficient.
The MILC Project will solve four fun­da­men­tal­ly impor­tant chal­lenges fac­ing the glob­al media industry:
- Glob­al avail­abil­i­ty of all video content,
- dis­cov­ery process for buyers,
- com­plex licens­ing for the entire indus­try, and
- ear­ly feed­back from its audience.
And for the first time, MILC will build a bridge between the audi­ence and the con­tent cre­ators, buy­ers, and dis­trib­u­tors. This con­nec­tion will allow the audi­ence to direct­ly impact and receive ben­e­fits from the cre­ation & dis­tri­b­u­tion of qual­i­ty new content.
Advan­tages of MILC for the market
- Inter­me­di­aries become superfluous
- Licences and con­tracts are secure­ly man­aged on the blockchain, sim­i­lar to a notary
- Fast tech­ni­cal deliv­ery to the buyer
- AI-sup­port­ed search
- Refer­ral com­mis­sion of 10% per deal is extreme­ly low, com­pared to oth­er dis­trib­u­tors (30% min­i­mum, 50% in some cases)
The MILC plat­form has the poten­tial to become a rel­e­vant mar­ket­place for any form of con­tent trading.
More Infor­ma­tion about MILC: https://www.milc.global
TEAM
The Welt der Wun­der team con­sists of 25 mem­bers who work at the Munich and Frank­furt loca­tions. To extend Welt der Wun­der's lead in the areas of blockchain and AI, the broad­cast­er has built a unique in-house team of IT developers.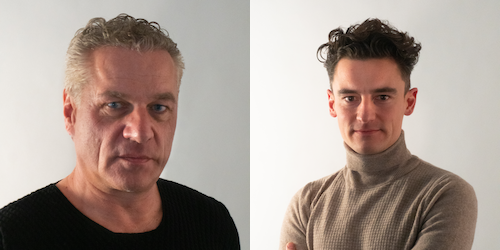 Man­age­ment Team: Hen­drik Hey, Eugen Nuss­baum (from left to right)
Founder & Man­ag­ing Director
Hen­drik Hey is the founder and CEO of Welt der Wun­der. He has been work­ing suc­cess­ful­ly in the media indus­try for over 30 years. While work­ing for the broad­cast­ers Das Erste, ZDF, Sat.1, RTL, ProSieben, 3Sat and SFB-Hör­funk, he dis­tin­guished him­self as a pro­duc­er, devel­op­er and TV host through his inno­v­a­tive and tech­nol­o­gy-savvy approach. Dur­ing this time, he laid the foun­da­tion for his world­wide net­work that exists today.
Busi­ness Director
Eugen Nuss­baum fin­ished his stud­ies in jour­nal­ism and eco­nom­ics at the School of Busi­ness and Eco­nom­ics in Nurem­berg. Since 2013, Eugen Nuss­baum has been work­ing with Welt der Wun­der, first as a TV Edi­tor & Pro­duc­er and now as a Busi­ness Direc­tor in the com­pa­nies project man­age­ment. At the moment, he focus­es on the man­age­ment and coor­di­na­tion of Welt der Wun­der's cur­rent Blockchain projects.
TOKEN CLASSIFICATION
The MLT‑S Token will be issued by Welt der Wun­der Sende­be­trieb GmbH on the Poly­gon pro­to­col. Poly­gon is a pro­to­col and a frame­work for build­ing and con­nect­ing Ethereum-com­pat­i­ble blockchain net­works. Aggre­gat­ing scal­able solu­tions on Ethereum sup­port­ing a mul­ti-chain Ethereum ecosystem.
The Token gives the investor access to the growth of the First Glob­al Tok­enized Fin­tech Media Com­pa­ny in the form of indef­i­nite­ly equi­ty par­tic­i­pa­tion rights of 20%.
The Par­tic­i­pa­tion Rights are made out to the bear­er and are divid­ed in up to 25,000,000 units with a nom­i­nal val­ue of EUR 1.00 each. They are rep­re­sent­ed by Tokens, issued by the Issuer in a Smart Con­tract on the Ethereum blockchain with the fea­ture that each Token rep­re­sents a Par­tic­i­pa­tion Right with the nom­i­nal val­ue of EUR 1.00. The Tokens are cre­at­ed on basis of the blockchain tech­nol­o­gy as units of val­ue on the decen­tral Ethereum blockchain being indi­vis­i­ble and direct­ly trans­fer­able between users.
The tok­enized Par­tic­i­pa­tion Rights are con­trac­tu­al, iden­ti­cal­ly designed claims of which the own­er­ship is insep­a­ra­bly con­nect­ed with the Tokens rep­re­sent­ing the Par­tic­i­pa­tion Right itself.
The oblig­a­tions of the Issuer under the Par­tic­i­pa­tion Rights con­sti­tute direct, uncon­di­tion­al, unse­cured and unsub­or­di­nat­ed oblig­a­tions of the Issuer rank­ing pari pas­su among them­selves and pari pas­su with all oth­er unse­cured and unsub­or­di­nat­ed oblig­a­tions of the Issuer, unless such oblig­a­tions are accord­ed pri­or­i­ty under manda­to­ry pro­vi­sions of statu­to­ry law.
The Par­tic­i­pa­tion Rights exclu­sive­ly grant con­trac­tu­al cred­i­tor rights to the hold­er and explic­it­ly no share­hold­er rights, in par­tic­u­lar no right to attend nor par­tic­i­pa­to­ry rights or vot­ing rights with respect to the issuer´s meet­ings of share­hold­ers. The hold­ers of the Par­tic­i­pa­tion Rights have no right to con­vert the par­tic­i­pa­tion right into a share in the Issuer.
Step 1: Reg­is­ter and qual­i­fi­ca­tion as pro­fes­sion­al investor
Euro­pean investors inter­est­ed in invest­ing in Welt der Wun­der GmbH must reg­is­ter with BMCP GmbH and qual­i­fy as a pro­fes­sion­al client accord­ing to Annex II of DIRECTIVE 2014/65/EU. After reg­is­tra­tion you will have access to the full invest­ment documentation.
Step 2: Know Your Cus­tomer (KYC) and Anti-Mon­ey Laun­der­ing (AML) Compliance
All poten­tial investors must pro­vide KYC infor­ma­tion to BMCP GmbH & Welt der Wun­der GmbH to allow the Issuer to con­duct its required KYC and AML analy­sis and to oth­er­wise con­firm that the investor sat­is­fies oth­er suit­abil­i­ty require­ments as the Issuer may need from time to time. Welt der Wun­der GmbH reserves the right to reject any invest­ment in its sole discretion.
Step 3: Sub­scrip­tion Process
After com­plet­ing Step 2, you are free to choose and con­firm the invest­ment amount, your pre­ferred pay­ment method and pay­ment currency.
Step 4: Pur­chase of MLT‑S Token
Send EUR, GBP, USD, CHF, ETH, USDC or USDT to the issuer Welt der Wun­der GmbH.
Step 5: Obtain MLT‑S Token
With­in three days after the end of the Offer­ing peri­od, you will obtain your MLT‑S Token into your wallet.
MLT‑S
Tar­get Fund Raise
EUR 25,000,000
For pro­fes­sion­al investors from
Europe
| Issuer | Welt der Wun­der Sende­be­trieb GmbH |
| --- | --- |
| Juris­dic­tion | Ger­many |
| Total Invest­ment Volume | EUR 25,000,000 |
| Min. Invest­ment Amount | EUR 100,000 |
| Prin­ci­pal Amount | EUR 1.00 per Token |
| Instru­ment Type | 20% Equi­ty Par­tic­i­pa­tion Rights |
| ISIN | DE000A3CY1Z5 |
| Wert­pa­pierkennnum­mer (WKN) | A3CY1Z |
| Cur­ren­cies | EUR, USD, GBP, CHF, ETH, USDT, USDC |
| Token Stan­dard | Poly­gon on Ethereum |
| Token Name | MLT‑S |
| Start Date | 16 August 2021 |
| End Date | 31 Decem­ber 2021 |
| Manda­to­ry Hold­ing Period | No |
| Sec­ondary Trading | Yes |
Investor Doc­u­men­ta­tion

Invest
Inter­est­ed investors must reg­is­ter and qual­i­fy as pro­fes­sion­al client accord­ing to Annex II of DIRECTIVE 2014/65/EU. A pro­fes­sion­al client is a client who pos­sess­es the expe­ri­ence, knowl­edge and exper­tise to make its own invest­ment deci­sions and prop­er­ly assess the risks that it incurs.
If qual­i­fied as a pro­fes­sion­al client, BMCP will con­tact you directly.
Legal Infor­ma­tion
The infor­ma­tion of this Secu­ri­ty Token Offer­ing is exclu­sive­ly intend­ed for per­sons who are not locat­ed in or res­i­dent of cer­tain oth­er restrict­ed juris­dic­tions, and who are oth­er­wise per­mit­ted to receive such information.
Accord­ing to Arti­cle 1 (4) of the EU Prospec­tus Reg­u­la­tion (Reg­u­la­tion (EU) 2017/1129 of the Euro­pean Par­lia­ment and of the Coun­cil of 14 June 2017 on the prospec­tus to be pub­lished when secu­ri­ties are offered to the pub­lic or admit­ted to trad­ing on a reg­u­lat­ed mar­ket, and repeal­ing Direc­tive 2003/71/EC), there is no oblig­a­tion to pub­lish a prospec­tus if the secu­ri­ties are only offered to legal enti­ties or indi­vid­u­als which are "qual­i­fied investor" as defined in the Prospec­tus Regulation.
The infor­ma­tion of this Secu­ri­ty Token Offer­ing does not con­sti­tute an offer or an invi­ta­tion to pur­chase secu­ri­ties in any juris­dic­tion in which such offer or invi­ta­tion is not autho­rised or to any per­son to whom it is unlaw­ful to make such offer or invi­ta­tion. Users of this infor­ma­tion are request­ed to inform them­selves about and to observe any such restrictions.
An invest­ment involves con­sid­er­able risks and can lead to the com­plete loss of the assets invest­ed. In the inter­ests of risk diver­si­fi­ca­tion, only those amounts of mon­ey should be invest­ed that are not required or expect­ed to be returned in the near future. How­ev­er, the risk is lim­it­ed to the invest­ment sum made and there is there­fore no oblig­a­tion to make addi­tion­al contributions.
The com­pa­ny to be financed is sole­ly respon­si­ble for all con­tents and infor­ma­tion pro­vid­ed regard­ing the offer­ing. BMCP GmbH acts as a pure inter­me­di­ary and assumes no lia­bil­i­ty for the accu­ra­cy of the pro­vid­ed con­tent. BMCP GmbH works on a suc­cess fee basis of up to 4.5% of raised capital.
DISCLAIMER
THIS PAGE DOES NOT CONSTITUTE AN OFFER OF SHARES OR A SOLICITATION OF AN OFFER TO PURCHASE SHARES MADE TO ANY PERSON IN ANY JURISDICTION IN WHICH IT IS UNLAWFUL TO MAKE SUCH AN OFFER OR SOLICITATION. THE DISTRIBUTION OF THIS OFFERING IN CERTAIN JURISDICTIONS MAY BE RESTRICTED BY LAW. FAILURE TO COMPLY WITH SUCH RESTRICTIONS MAY CONSTITUTE A VIOLATION OF THE SECURITIES LAWS OF THE RELEVANT JURISDICTION. NO ACTION HAS BEEN OR WILL BE TAKEN TO ALLOW A PUBLIC OFFERING OF THE SHARES IN ANY JURISDICTION. THE TOKENS ARE INTENDED TO BE DISTRIBUTED ONLY ON A PRIVATE PLACEMENT BASIS.
THE OFFERING IS ONLY AVAILABLE TO INSTITUTIONAL OR PROFESSIONAL INVESTORS OF THE EUROPEAN UNION WHO HAVE EXPRESSED AN INTEREST IN INVESTING IN THE COMPANY.