INX Token IPO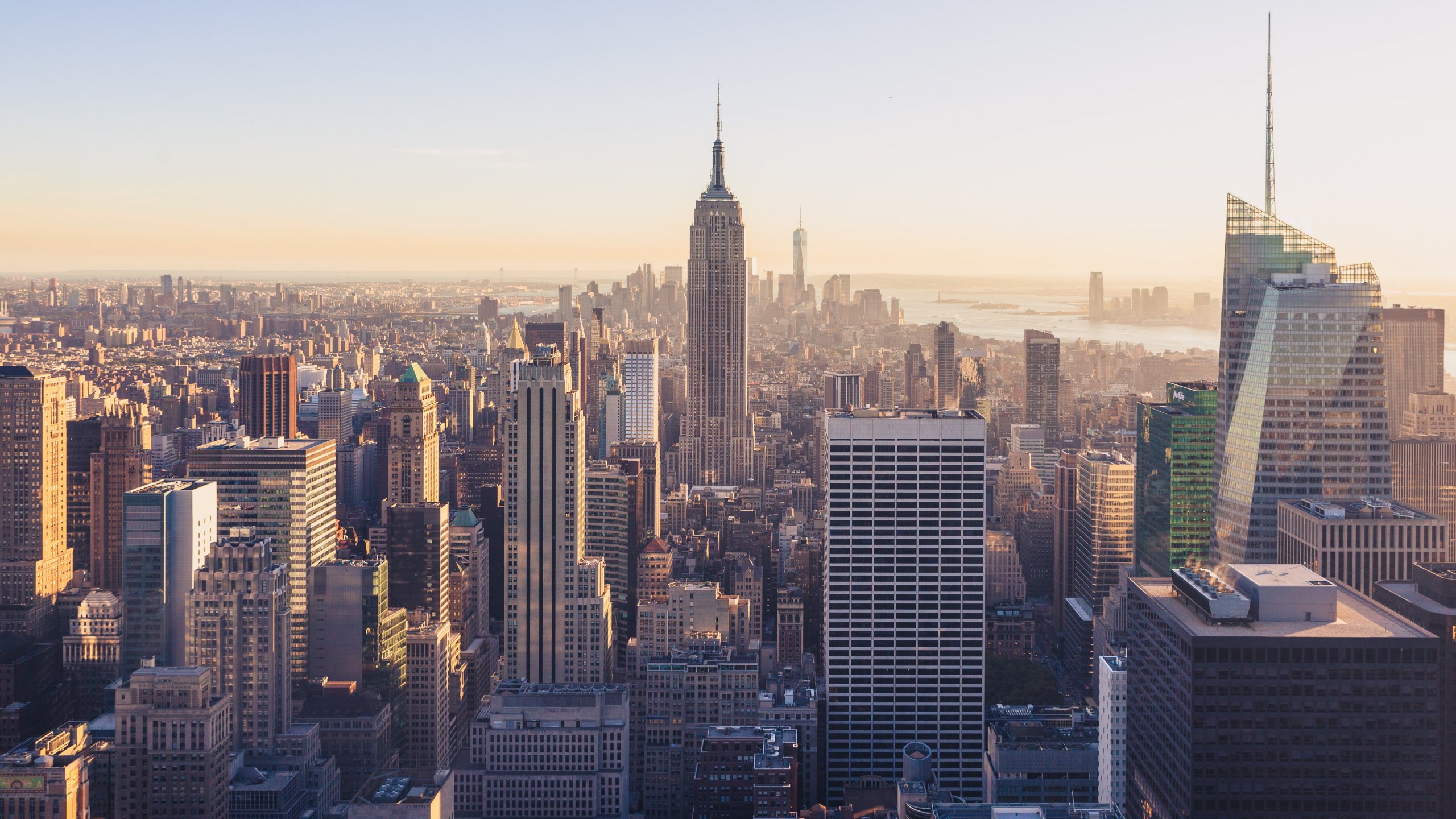 INX TOKEN
For fur­ther enquiries con­tact:

investor@blackmanta.capital
FIRST EVER SEC REGISTERED TOKEN IPO
CLOSED
SME
INX Trad­ing Solutions
The sub­scrip­tion peri­od for the offer­ing end­ed on 22 April 2021.
INX Trad­ing Solu­tions aims to enable the list­ing and trad­ing of both reg­u­lat­ed secu­ri­ty tokens and cryp­tocur­ren­cies for insti­tu­tion­al and retail investors.
INX is look­ing to com­bine all the promise & poten­tial of blockchain — but in a ful­ly reg­u­lat­ed form.
The team con­sists of tra­di­tion­al cap­i­tal mar­ket vet­er­ans and blockchain experts uni­fied by the vision of estab­lish­ing a new trad­ing ecosys­tem for dig­i­tal assets.
More infor­ma­tion about the Com­pa­ny can be found under https://www.inx.co
The Evo­lu­tion
The Offer­ing
INX is offer­ing 130M secu­ri­ty tokens in first ever ful­ly reg­is­tered SEC prospectus.
Investors in the tokens are enti­tled to receive pro rata dis­tri­b­u­tions of 40% of the Company's cumu­la­tive adjust­ed oper­at­ing cash flow.
Investor down­side pro­tec­tion: cash fund will be dis­trib­uted to token hold­ers upon a fail­ure to launch cryp­tocur­ren­cy trad­ing, an insol­ven­cy event, or a change of control.
The Time­line

* assumes the com­pa­ny rais­es $23.7 mil­lion (or the full offer­ing amount) by the end of Sep­tem­ber 2020.
Token Eco­nom­ics
The INX token has both secu­ri­ty and util­i­ty ben­e­fits for its holders
Any prof­it share is dis­trib­uted to a dimin­ish­ing cir­cu­lat­ing sup­ply of tokens. This is because as traders spend INX Tokens to reduce their trad­ing costs, 20% of the tokens are trans­ferred into the INX Token reserve, increas­ing scarcity.
AS A SECURITY
Manda­to­ry Prof­it Share: Annu­al pro rata dis­tri­b­u­tion of 40% of the Company's cumu­la­tive adjust­ed net oper­at­ing cash flow.
‍
Liq­ui­da­tion Pref­er­ences: Pro rata por­tion of the Cash Fund upon a fail­ure to launch cryp­tocur­ren­cy trad­ing, an insol­ven­cy event, or a change of control.
AS A UTILITY
Medi­um of exchange: Dis­counts of at least 10% on trans­ac­tion fees on INX Secu­ri­ties when INX Tokens are used to pay fees.
‍
Stak­ing: Pas­sive Tiered Trad­ing Fee Dis­count Pro­gram on INX Dig­i­tal based upon the num­ber of INX Tokens held in cus­tomers pri­vate wallets.
Rev­enue Gen­er­a­tion Timeline
#1 Cryp­tocur­ren­cy trad­ing fees – the main rev­enue source (100%) at launch, until oth­er activ­i­ties are oper­a­tional, with the rev­enue mix chang­ing over time.
#2 Secu­ri­ty token trad­ing and list­ing fees – will com­mence upon receipt of the BD/ATS license.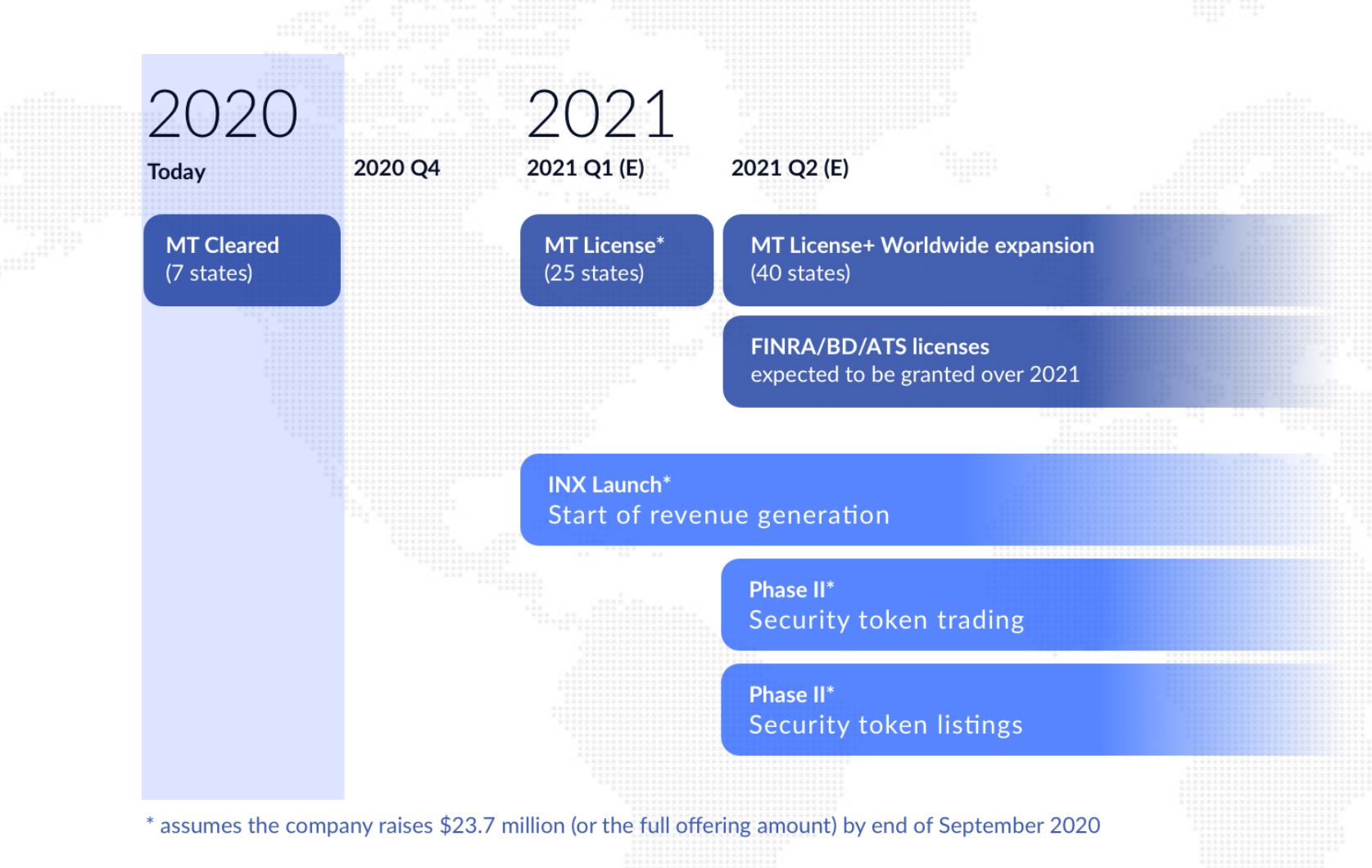 INX Token IPO
Total Amount
USD 117,000,000
For pro­fes­sion­al investors from
Europe
| Issuer | INX Lim­it­ed |
| --- | --- |
| Juris­dic­tion | Gibral­tar |
| Total Invest­ment Volume | USD 117,000,000 |
| Thresh­old | USD 7,500,000 |
| Min. Invest­ment Amount for EU Investors | EUR 100,000 |
| Num­ber of Token offered | 130,000,000 |
| Prin­ci­pal Amount | USD 0.9 per Token |
| Instru­ment Type | Hybrid Token |
| ISIN | GI000A2PJ6W9 |
| CUSIP | X3R903103 |
| Cur­ren­cies | USD, USDC, BTC, ETH |
| Start Date | 26 August 2020 |
| Token Stan­dard | ERC-20 |
| Sec­ondary Trading | NO |
Investor Doc­u­men­ta­tion

CLOSED
Inter­est­ed investors must reg­is­ter and qual­i­fy as pro­fes­sion­al client accord­ing to Annex II of DIRECTIVE 2014/65/EU. A pro­fes­sion­al client is a client who pos­sess­es the expe­ri­ence, knowl­edge and exper­tise to make its own invest­ment deci­sions and prop­er­ly assess the risks that it incurs.
If qual­i­fied as a pro­fes­sion­al client, BMCP will con­tact you directly.
Legal Infor­ma­tion
The infor­ma­tion of this Token Offer­ing is exclu­sive­ly intend­ed for per­sons who are not locat­ed in or res­i­dent of cer­tain oth­er restrict­ed juris­dic­tions, and who are oth­er­wise per­mit­ted to receive such information.
Accord­ing to Arti­cle 1 (4) of the EU Prospec­tus Reg­u­la­tion (Reg­u­la­tion (EU) 2017/1129 of the Euro­pean Par­lia­ment and of the Coun­cil of 14 June 2017 on the prospec­tus to be pub­lished when secu­ri­ties are offered to the pub­lic or admit­ted to trad­ing on a reg­u­lat­ed mar­ket, and repeal­ing Direc­tive 2003/71/EC), there is no oblig­a­tion to pub­lish a prospec­tus if the secu­ri­ties are only offered to legal enti­ties or indi­vid­u­als which are "qual­i­fied investor" as defined in the Prospec­tus Regulation.
The infor­ma­tion of this Token Offer­ing does not con­sti­tute an offer or an invi­ta­tion to pur­chase secu­ri­ties in any juris­dic­tion in which such offer or invi­ta­tion is not autho­rised or to any per­son to whom it is unlaw­ful to make such offer or invi­ta­tion. Users of this infor­ma­tion are request­ed to inform them­selves about and to observe any such restrictions.
An invest­ment involves con­sid­er­able risks and can lead to the com­plete loss of the assets invest­ed. In the inter­ests of risk diver­si­fi­ca­tion, only those amounts of mon­ey should be invest­ed that are not required or expect­ed to be returned in the near future. How­ev­er, the risk is lim­it­ed to the invest­ment sum made and there is there­fore no oblig­a­tion to make addi­tion­al contributions.
The com­pa­ny to be financed is sole­ly respon­si­ble for all con­tents and infor­ma­tion pro­vid­ed regard­ing the offer­ing. BMCP GmbH acts as a pure inter­me­di­ary and assumes no lia­bil­i­ty for the accu­ra­cy of the pro­vid­ed con­tent. BMCP GmbH works on a suc­cess fee basis of up to 4% of raised capital.
Inter­dis­ci­pli­nary Team background

DISCLAIMER
THE DISTRIBUTION OF THE OFFER AND SALE OF THE INX TOKENS MAY BE RESTRICTED BY LAW IN CERTAIN JURISDICTIONS. THIS WEBSITE DOES NOT CONSTITUTE AN OFFER TO SELL OR THE SOLICITATION OF AN OFFER TO BUY (AND MAY NOT BE CIRCULATED TO ANY PERSONS) IN ANY COUNTRY, STATE, OR OTHER JURISDICTION WHEN IT IS UNLAWFUL TO MAKE SUCH OFFER OR SOLICITATION IN SUCH STATE OR JURISDICTION. THIS OFFERING IS NOT MADE TO OR DIRECTED AT, AND MAY NOT BE ACTED UPON BY, PERSONS OR ENTITIES IN, OR CITIZENS OF, AFGHANISTAN, ALBANIA, ARGENTINA, BANGLADESH, BELARUS, BOLIVIA, BOSNIA AND HERZEGOVINA, BURUNDI, CENTRAL AFRICAN REPUBLIC, DEMOCRATIC REPUBLIC OF CONGO, COSTA RICA, CÔTE D'IVOIRE, CUBA,
ECUADOR, EGYPT, EQUATORIAL GUINEA, GUINEA, GUINEA-BISSAU, HAITI, HOLY SEE (VATICAN CITY STATE), ICELAND, INDIA, INDONESIA, IRAN, IRAQ, LAO PEOPLE'S DEMOCRATIC REPUBLIC, LEBANON, LIBERIA, LIBYA, THE FORMER YUGOSLAV REPUBLIC OF MACEDONIA, MALI, MONTENEGRO, MYANMAR, NICARAGUA, NORTH KOREA, STATE OF PALESTINE, QATAR, RUSSIAN FEDERATION, RWANDA, SERBIA, SOMALIA, SOUTH SUDAN, SUDAN, SYRIAN ARAB REPUBLIC, TUNISIA, TURKEY, UKRAINE, BOLIVARIAN REPUBLIC OF VENEZUELA, VIETNAM, YEMEN, AND ZIMBABWE, AND ANY OTHER JURISDICTION IN WHICH THIS OFFERING IS, OR MAY BECOME, PROHIBITED (EACH A "PROHIBITED JURISDICTION").
ACCORDINGLY, NO PERSON OR ENTITY IN A PROHIBITED JURISDICTION SHALL BE ELIGIBLE OR PERMITTED TO, WHETHER DIRECTLY OR INDIRECTLY, SUBSCRIBE, PURCHASE OR ACQUIRE, OR OFFER TO SUBSCRIBE, PURCHASE OR ACQUIRE, ANY INX TOKENS. THIS WEBSITE, THE PROSPECTUS AND ANY OTHER DOCUMENT OR MATERIAL IN CONNECTION WITH THE OFFER OR SALE, OR THE INVITATION TO PURCHASE, THE INX TOKENS MAY NOT BE CIRCULATED OR DISTRIBUTED, WHETHER DIRECTLY OR INDIRECTLY, TO PERSONS OR ENTITIES IN, OR CITIZENS OF, A PROHIBITED JURISDICTION.
Pho­to by Jonathan Riley on Unsplash